Prompted by the idea of creative exploration during a time of limited physical and social connection, Casa Branca engaged three Los Angeles based photographers to shoot collection fabrics and dishware using an unconventional approach to traditional product photography.
✤ Emmy Pickett ✤
Shot during the wide-scale stay at home orders, my heart and mind needed the colors of the stunning Branca collection as a vehicle to dream and explore. In nature, we find patterns, architecture, and colors that we then shape with our human hands into something we cherish. I was inspired to include a mix of nature and artisanal objects that I've collected to play with the intersection of the artisan's hand and the natural world. –EMMY PICKETT
Photographer and Film Director Emmy Pickett was given a sample of resplendent fabrics and dishware, with the task to use her own artistic interpretation of the brand's identity as a lens through which to create. The result is a unique sample of work that tells the story of how color, patterns, and architecture can spark creativity and take on an artistic identity.
Pickett was inspired by the hallmark vibrant colors of the Casa Branca collection and the natural world. Her images are transportive and whimsical. They highlight the photographer's tendency towards experimentation and exploration, both emotionally and physically.
Pickett's photos highlight our Fiamma handprinted fabric and Papavero Tumbler. Adorned with the poppy motif, the Papavero Tumbler is handblown, hand-cut, and hand-painted in enamel.
✤ Dana Boulos ✤
DJ, Film Director, and Photographer Dana Boulos played with the ideas of nostalgia and manifestation during a creative photoshoot mixing objects with Casa Branca fabrics. Dana's images were created as a memoir of her younger self. By bringing in objects that represent manifestations in her life, she portrays her unique identity and sense of nostalgia. The Casa Branca fabrics are used as a backdrop for her objects, creating a contemporary world for her mementos to be enshrined.


More from the Giornale
✤ Artist Highlight ✤
Giant grids with colorful circles make formal living rooms more comfortable - and a little more fun! Katie Brickman Powell paints bold shapes in bright colors on whitewashed wood boards. She opts for wood over canvas because of its hardiness, imperfections, knots, the way it ages, and the beautiful grain 
lines
 that peek through the paint.
Read Now
✤ Setting the Table ✤
Spring has sprung! Celebrate the season and charm family and friends by festooning your table with our colorful selection of whimsical tabletop designs. An emphasis on pastel pink and green, a piece or two of rattan, and fresh florals lay the foundation for a festive tablescape, extending the feeling of spring into your home. Add your own creative flourish or favorite pieces to create a memorable event! 
Read Now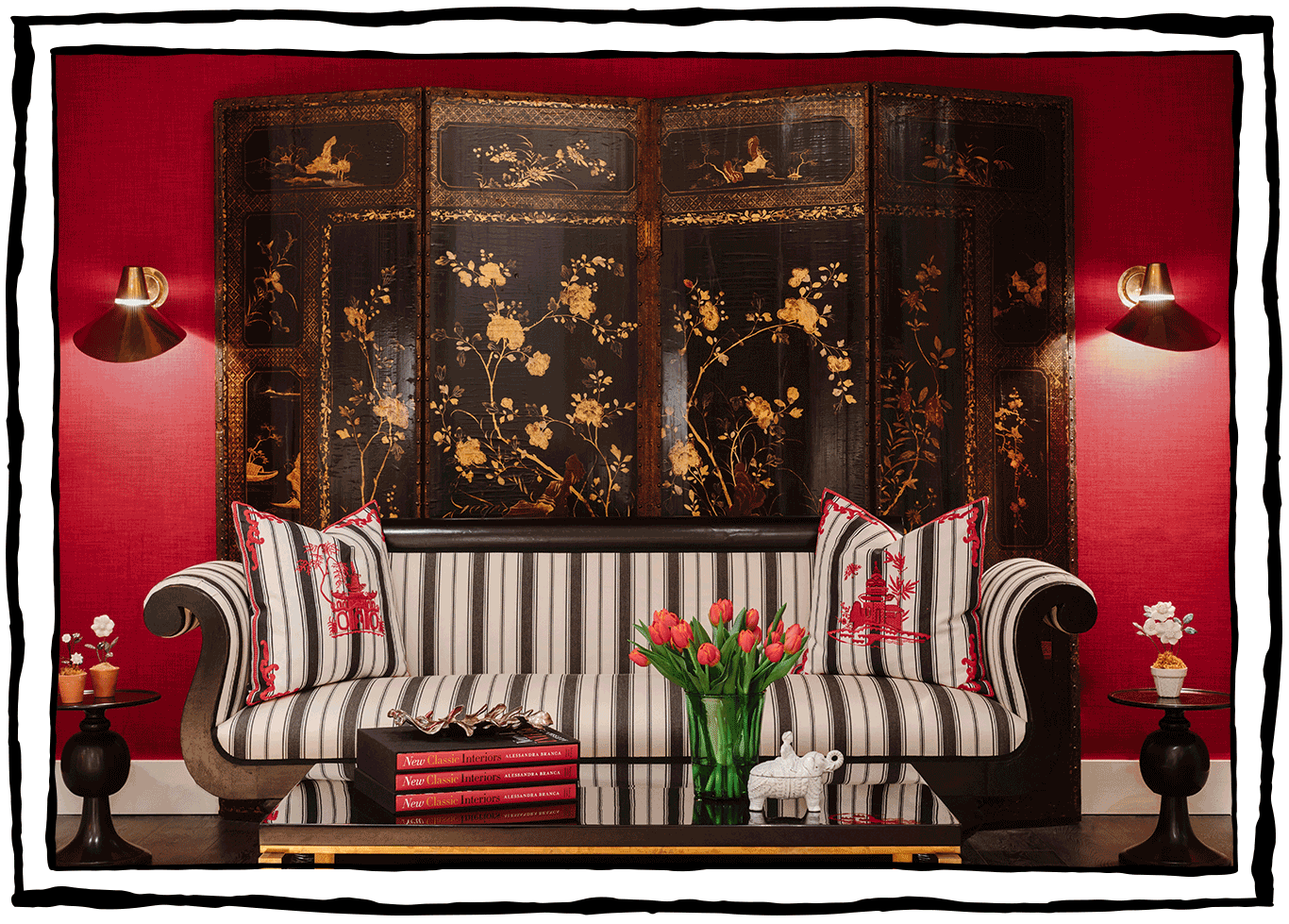 ✤ Chick Digs Red ✤
Red is exuberant.  Some scientists think it's the first color we "see" in the womb, but the fun doesn't stop there!  Everyone looks wonderful in a red room.  Your skin glows.  Alessandra has rarely done a home without a touch of red.  It sparks up a room and gives it life.
Read Now