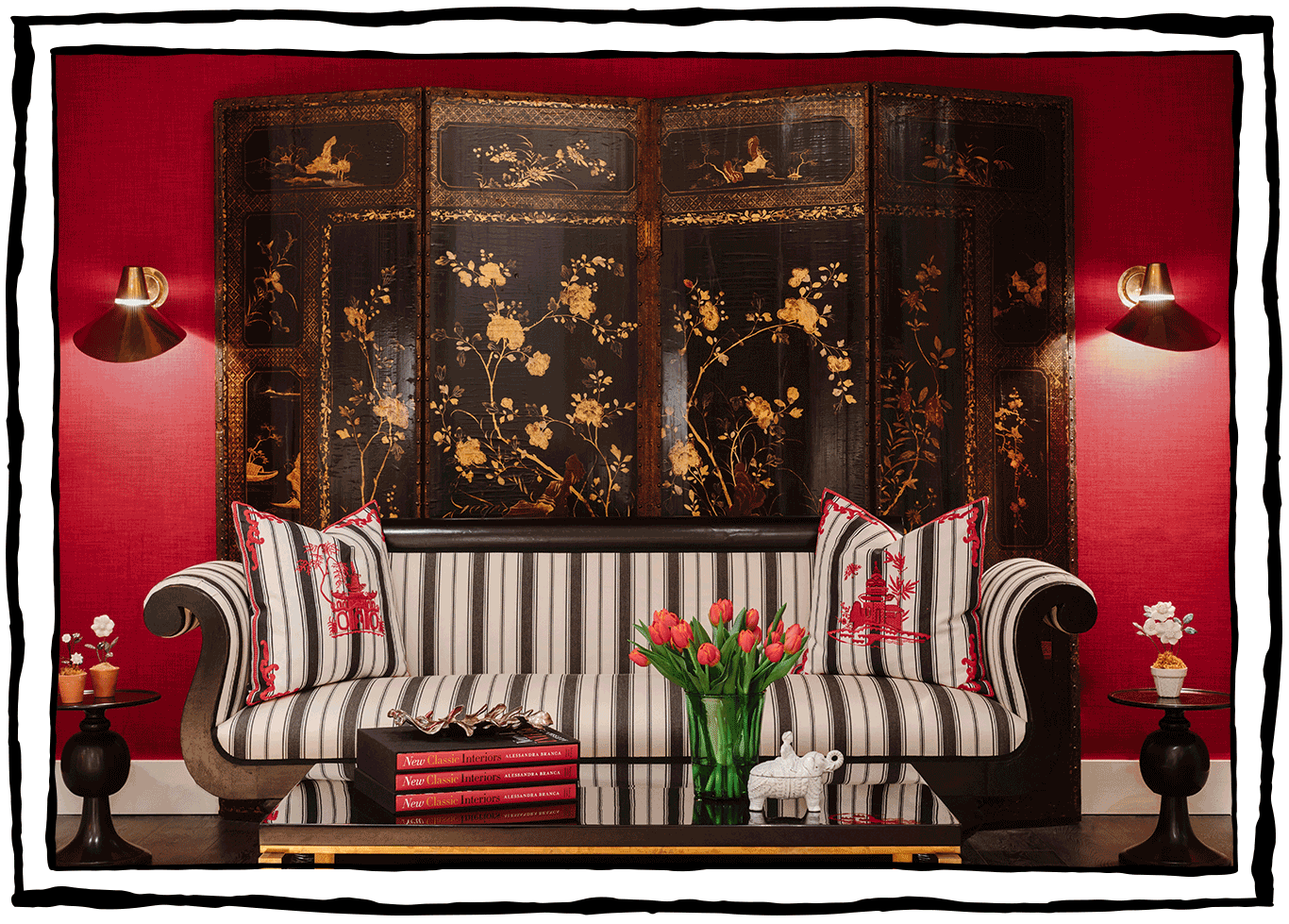 Red is exuberant. Some scientists think it's the first color we "see" in the womb, but the fun doesn't stop there! Everyone looks wonderful in a red room. Your skin glows. An instant lift! Chinese red, Pompeian red, American-flag red…so many cultures have embraced it, and they can't all be wrong! Alessandra has rarely done a home without a touch of red. It sparks up a room and gives it life. But if you're wary of color, pick out just one element, like the lampshades or the pillows, to introduce a pop.
✤ Red + Black ✤
Shots of red and black add drama to a neutral backdrop. Red is passion and joy, but black is more sobering–it gives a room depth, history, and age, bringing the room back down to earth. The combination of the two colors is very powerful.
More from the Giornale
✤ Sparking Creativity ✤
Prompted by the idea of creative exploration during a time of limited physical and social connection, Casa Branca engaged three Los Angeles based photographers to shoot collection fabrics and dishware using an unconventional approach to traditional product photography.
Read Now
✤ Setting the Table ✤
Spring has sprung! Celebrate the season and charm family and friends by festooning your table with our colorful selection of whimsical tabletop designs. An emphasis on pastel pink and green, a piece or two of rattan, and fresh florals lay the foundation for a festive tablescape, extending the feeling of spring into your home. Add your own creative flourish or favorite pieces to create a memorable event! 
Read Now
✤ Nonna's Secret Sauce ✤
Decorating a room is a little like making a pasta sauce—you have to balance the design just as you would balance the flavors.
Read Now